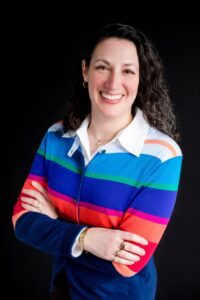 Thank you for reading the first bulletin letter of my presidency. Some of you may not know me so let me share a little bit. First off, our last name is pronounced Cruise-ee, which is the Dyersville way courtesy of my husband, Terry, who is from there. I grew up in Libertyville, a northern suburb of Chicago, where my parents were part of a group that founded the congregation we attended – Or Shalom in Vernon Hills. I was a camper at OSRUI the summer before freshman year of high school and at URJ's Kutz Camp (z''l) the summer before senior year of high school. I was also a counselor at Kutz before my junior year of college.
This is my family's second time as TBJ members. We lived in Des Moines from 2000-2009, and I served on the Sisterhood board during that time. In late summer 2009, we moved to Dubuque and came back to the area in fall 2015. Terry is an academic advisor at Iowa State, and I am a development manager (fundraiser) for Des Moines Performing Arts. Always happy to talk about live theater with anyone!
Terry and I have two boys: Scott who is a senior at Ankeny High School (he had his naming and Bar Mitzvah both at TBJ), and Aaron who is a sixth grader at Parkview Middle School in Ankeny. His bar mitzvah is scheduled for January 2025. Both of them are GUCI campers – Scott just finished an amazing summer in Avodah, which was his sixth summer at camp, and Aaron had his third summer this year.
As I begin this role, it isn't possible for me or TBJ to thank past president Dana Dickson enough. She has been an exemplary leader expertly navigating so many unique situations over the past two years, while making it look easy and always having a smile on her face. Her calm demeanor and compassionate personality are things I aspire to emulate. She is leaving incredibly big and stylish shoes for me to fill.
Thank you also to those who have rotated off the board. We appreciate your time, commitment, and dedication to TBJ. Welcome to the new board members and those in new roles. You can find the current board listed on the back of the bulletin. I look forward to working with all of them over the next two years as TBJ continues to thrive. I also am eager to meet those congregants I don't know. TBJ is growing and has been for quite some time. With that in mind, there are nametags on the table inside the main entry doors. When you come for services of any kind, feel free to make one for yourself and those who are with you even if you have been a member forever. That way we can all get to know each other and welcome everyone to TBJ.
I am honored to be the leader of OUR congregation and follow the storied tradition of TBJ presidents. Thank you for putting your faith in me to be your representative. I am excited to welcome Rabbi Neal's family to Des Moines and our community and being his partner during his next few years as our rabbi. And most of all, I cannot wait to celebrate our 150th anniversary as a congregation with all of you! (Mark your calendars for our 150th celebration at the Temple on Saturday, November 4. More information to come…)
As we enter the high holidays of our 150th year, one item of note. Earlier this summer our 30-ton air conditioner that cools the sanctuary and part of the social hall, breathed its last breath. Its sudden demise was completely unexpected, but given that it was approximately 25 years old, it was not surprising. What has been a surprise is that current supply chain issues dictate that a new one will not be available for us until November. From now until then when weather and temperature permit, we will continue to use the sanctuary for Friday night services; if temperatures rise to uncomfortable levels services will move to the small chapel on the lower level where there is still air conditioning.
Where this presents a real challenge is High Holiday services. We all know that September weather in Iowa can either feel like summer or winter, and almost 200 people in the sanctuary raise the temperature higher regardless of the weather outside. Therefore, out of an abundance of caution and to ensure the comfort and safety of our congregants and service leaders, we are making arrangements to hold High Holiday services in an alternate space. All high holiday services this year will take place at Caspe Terrace in the auditorium with overflow seating in Bookey Lodge with a livestream. All services will also be streamed on our website as usual for remote viewing.
It is difficult to imagine Temple B'nai Jeshurun High Holidays somewhere other than our sanctuary, but we are fortunate to have a viable alternative, and grateful to the Jewish Federation for their generosity and cooperation. This will mean, however, that we are not able to have the traditional high holiday meals after services, except for a simple oneg after Erev Rosh Hashanah services. While it is unfortunate we cannot kibbitz and nosh after services like we usually do, hopefully this is an opportunity to get together in smaller groups at our homes. We appreciate your understanding and accommodation during this unique situation this year. To modify what we say at Passover, "next year back at TBJ!"
The complete high holiday schedule is available in this bulletin, on our Temple website and in emails that will go out beginning in late August.
Should you ever have any questions or concerns or ideas or want to get involved with the Temple, please reach out to me at president@tbjdsm.org. Again, I look forward to our 150th year and getting ready for the next 150!
Emily Kruse