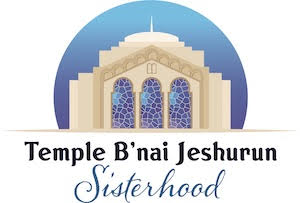 Since 1874, Temple B'nai Jeshurun Sisterhood has been your essential connection to the women of Temple B'nai Jeshurun.
      Our mission is to serve the women of TBJ, contribute to the Temple community, as well as provide a foundation for enriching Reform Jewish life at home, at the Temple, and in the central Iowa community. 
      We sponsor social, educational and social action programs and events.  In the past, the Temple Sisterhood has sponsored the following social action projects:  books for the Ashcroft Library 2 for 2 projects; plastic bag mats for the homeless; blankets for shelters; volunteering for the Planned Parenthood book sale; and knitting NICU blankets.  We had group events including Rosh Chodesh Havdalahs, lunch and tour of the Des Moines Art Center, and a gathering at Pinot's Palette.  We also sponsored a program with King Elementary School to furnish its teacher's lounge for which we won an honorable mention award from Women of Reform Judaism North America.
   Ongoing programming includes Temple Book Club, Hanukkah Happenings, an annual Sisterhood Tea, Supper in the Sukkah, a weekly Schmooze and Crafts group, a monthly We Do lunch, and a monthly Breakfast Club. 
            Please join us for any or all of these programs.  We are also happy to hear your own ideas for programs and activities. 
Learn more about getting involved in the TBJ Sisterhood by following the links below:
Award Winner 2023_Temple B'nai Jeshurun Sisterhood