The Tree of Life at Temple B'nai Jeshurun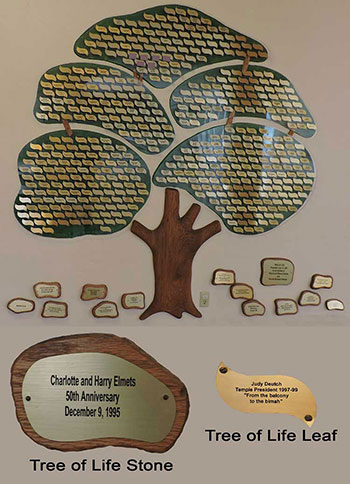 Proudly displayed in the Temple's social hall, The Tree of Life is a constant reminder of the happy events that touched your life and the life of your family and friends.
Commemorate births, bar and bat mitzvahs, wedding anniversaries, graduations, achievements and other milestones by adding an Inscribed Stone ($1,000.00) or Leaf ($150.00) to our Tree of Life.
Season after season, year after year, The Tree of Life will keep the joy and memories of your simcha in the hearts and minds of those who shared in the celebration.
The unique Tree of life sculpture was presented to the Temple by Ava & Bernard Feldman and Victoria and Steven Eckstat.
You can purchase a Leaf or a Stone for the Tree of Life through the Paypal button below. You do not need to have a PayPal account to use PayPal. PayPal allows you to use a credit or debit card to make a purchase without a PayPal account.  You can indicate the inscription to be placed on the Leaf or Stone when purchasing.