Guide for Rosh Hashanah Celebration 2020
Welcome to our 2020 – 5781 Erev Rosh Hashanah Celebration service.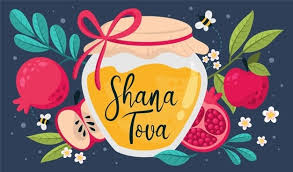 We are happy to provide this viewing guide for your use as you watch our service. It will inform you of page numbers and the names of participants.
Our Service uses the Mishkan Tefilah Prayerbook for Rosh Hashanah.
Copies of the prayerbook may be obtained from Temple B'nai Jeshurun or purchased online. An online version may be found here:
The TBJ Erev Rosh Hashanah Celebration 2020 Service can be watched on YouTube or Vimeo anytime!
Welcome and Happy New Year from our Temple Staff: Erin Plank, Wendy Beckerman, Charles Stanton, and David Muenchrath.
Our Service Begins- Welcome by Rabbi Kaufman
p. 6 Hinei Mah Tov – Laura Sparks, Sam Miller, Chuck Kuba
p. 11 #3 Reading before the Candle Lighting
p. 11 Blessing of the Candles – Julie Kaufman
p. 13 Reading – Bless our homes and our families
Blessing of Our Children – Priestly Benediction
p. 14 Shalom Aleichem – Traditional
P. 15 Tiku Vachodesh Shofar
p. 15 Shofar Blessing – All four calls.
p. 19 Announcing the New Year
p. 78 Introduction to Kiddush
p. 79-80 Traditional Rosh Hashanah Kiddush
Kiddush Toast for the New Year and Shabbat – Cup of Wine!
Explaining the Symbols of the New Year
____________________________________
___________________________
Resumption of the Rosh Hashanah Service
Rabbi Introduces 2nd Cup of Wine
Thankful for Our Freedom – Cup of Wine!!
p. 45 "Our God and God of the Generations"
Prayer of Thanks for Life and Health – Rabbi Kaufman
Prayer for Repairing Our World – Rabbi Kaufman
p. 74 Introduction to Avinu Malkeinu
Celebration of Shabbat – Cup of Wine!!!
D'var Torah – Rabbi Kaufman
P. 83 at top of page Aleinu
p. 98-99 Blessing the New Year
Introduction to 4th Cup
Looking forward to a Sweet New Year – Cup of Wine!!!!
p. 99 L'shanah Tovah Tikateivu v' Teichateimu
Rabbi Introduces Desserts
Sweet Desserts – Apples and Honey, Honey Cake, etc…
Kids eating apples and honey featuring The Dickson Family!
Yahrzeit Observances for the week of September 13 through September 19, 2020
 24 Elul, 5780 through 1 Tishrei, 5781
May Their Memory Always Be For A Blessing
Florence Silverstein Strauss
*

*** Sanford Naiditch ( Father of Ira Naiditch )
*

*** Alice Bishop ( Mother of Gary Bishop )
**** Jackie Strom Sinykin ( Cousin of Gloria Leventhal )
Mi she-bei-rach a-vo-tei-nu
M'kor ha-bra-cha l'i-mo-tei-nu
May the source of strength
Who blessed the ones before us
To make our lives a blessing
Mi she-bei-rach i-mo-tei-nu
M'kor ha-bra-cha l'a-vo-tei-nu
Bless those in need of healing
Thank you to all of our service participants and musicians :
Laura Sparks, Cantorial Soloist