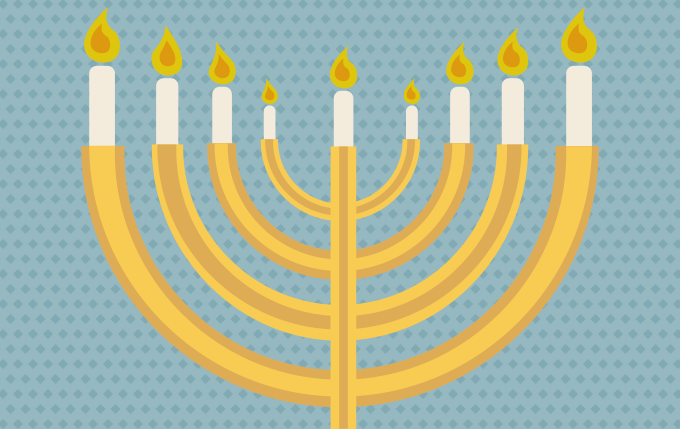 Contact the Temple office for Zoom links! office@templebnaijeshurun.com
December 4, Friday at 6 pm – TBJ Chanukah Family Shabbat
December 10, Thursday at 6 pm – Connecting to Chanukah – Rabbi Kaufman will teach about the meaning, history, and practices of Chanukah
December 10, Thursday 1st night at 7pm: TBJ joins Tifereth Israel for The Amazing Naomi Less with her family-friendly Jewish rock show, "Any Way You Light It"
December 11, Friday 2nd night at 6pm: TBJ Chanukah Kabbalat Shabbat Services
December 12, Saturday 3rd night at 6pm: TBJ joins Tifereth Israel for Zoom, "Night at the Movies" – Screening of the HILARIOUS documentary, "The Land of Milk and Funny" with a Q&A with the director
December 13, Sunday at 11am – TBJ joins the Jewish Federation of Greater Des Moines for Shirlala (during Hebrew school)
December 14, Monday 5th night at 7 pm: TBJ joins Tifereth Israel for The Bible Players! They will make you laugh like crazy with their LIVE Hanukkah Zoom show!
December 15, Tuesday 6th night at 7 pm: Time Flies Circus will perform a Zoom Fire-Juggling Show with a juggling lesson/demo at the end!
December 16, Wednesday 7th night at 6 pm: TBJ hosts the Across Iowa Candle Lighting as we light our Chanukkiot (menorahs) with Jewish communities across Iowa at the same time!
December 17, Thursday 8th night at 5:30 pm: University of Iowa Hillel Trivia Night! Get three of your friends together for a team or they will assign you one as you compete with other teams of alumni, students and Iowa Jewish community members across the state!
December 18, Friday 8th day at 11:30 am: Rabbi Kaufman will lead Chanukah Shabbat services for Gan Shalom