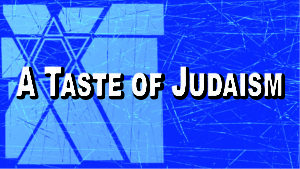 Taste of Judaism is an opportunity to learn about the basics of Judaism.
We will briefly discuss the different kinds of Judaism, how Jews pray, life cycle events in the Jewish tradition and Jewish holidays.
The last day of class, we will look at the holiday of Chanukah in detail.
Whether you are just beginning to learn or want a refresher, we hope you will join us.
Oct 24—Streams of Judaism in Perspective
Nov 7—Jewish Textual Traditions
Nov 14—Worship and Prayer
Nov 21—Holidays
Dec 5—Life Cycles
Dec 19—Chanukah
All classes are 7:00-8:30 pm
You need not be interested in conversion to attend these six Taste of Judaism sessions.