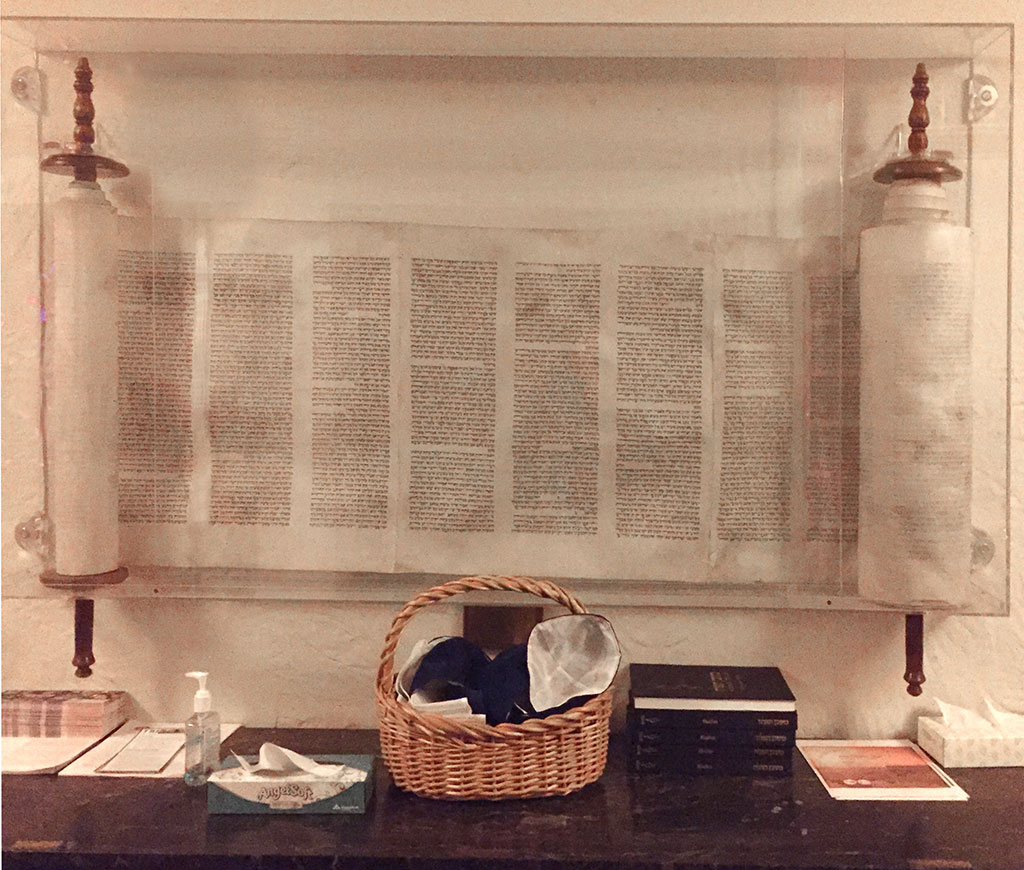 Temple B'nai Jeshurun obtained a "Holocaust Torah" in 1991 thanks to a gift to the Temple by Alvin and Dorothy Kirsner in honor of their 50th wedding anniversary.  The scroll, in a Lucite case, has a place of honor in the foyer just outside the Temple's sanctuary.
The Holocaust Torahs were among the treasures the Nazis intended to display in a museum after they completed their planned extermination of all Jews in Czechoslovakia.  In 1942, a group of members of Prague's Jewish community devised a way to bring the religious treasures from the deserted communities and destroyed synagogues to the comparative safety of Prague.  The Nazis were persuaded to accept the plan and more than 100,000 artifacts were brought to the Museum.  Among them were about 1,800 Torah scrolls.  Each was meticulously recorded. labelled and entered on a card index by the Museum's staff with a description of the Scroll and the place it had come from.
After the war, they were transferred to the ruined synagogue at Michle outside Prague where they remained until they came to London.  Some fifty congregations re-established themselves in the Czech Republic and were provided with religious artifacts, not necessarily from their own communities.  When the Communists took over the government of the country in 1948, Jewish communal life was again stifled, and most synagogues were closed. Their possessions went to the newly refounded Jewish Museum of Prague.
In 1963 Eric Estorick, a London art dealer, was offered the opportunity to purchase the 1,564 Scrolls of the Law, stored by the Museum.  He contacted a client, Ralph Yablon,  who in turn approached Harold Reinhart, Rabbi of Westminster Synagogue.  Together they asked Chimen Abramsky, a Hebrew scholar, to go to Prague and examine the scrolls.
Through the generosity of Ralph Yablon, the scrolls were bought and transported to the the Westminster Synagogue in London. One by one the scrolls have been given on "permanent loan" to synagogues around the world.  The synagogues are asked to treat the scrolls with dignity and honor due a legacy from a destroyed culture.  The priceless scrolls – some of them hundreds of years old – are not sold, but receiving synagogues are asked to make a contribution to cover expenses of the operation.
All that is known about the Temple's Torah, identified as #351, is that it was housed in an ark in a synagogue somewhere in Czechoslovakia and that it was meticulously and lovingly created by a scribe, probably in Eastern Europe, and possibly several hundred years ago.
For more information about the scrolls visit the Memorial Scrollls Trust website.