Originally organized as a burial society, Temple B'nai Jeshurun established a cemetery at the intersection of Delaware and Easton Avenues on the East Side of Des Moines. Although burials were made into the 1960's at the Children of Israel Cemetery, but general use ceased during the 1930's because space was limited. Today the cemetery. although maintained, is inactive and generally locked.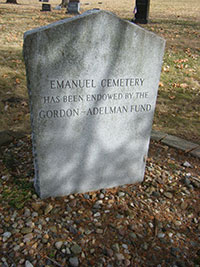 Today, the Temple maintains a section in the City's Woodland Cemetery, 2019 Woodland Avenue named the Emanuel Jewish Cemetery. This section is adjacent to the northwest corner of Woodland Cemetery at Woodland and M.L. King Parkway, just northwest of downtown Des Moines. Burials are recorded, with most Des Moines city burials, in a data base prepared by the Des Moines Park and Recreation Department and available at https://cemeterysearch.dmgov.org. The Emanuel Cemetery has been endowed by the Temple's Gordon – Adelman Fund.
A second Jewish Section is located in Glendale Cemetery, 4909 University Avenue. Located at 48th Street and University Avenue, west of Drake University, the Jewish section is located in the SW corner of the cemetery proper, adjacent to University Avenue.